U.S. Trips I Have Taken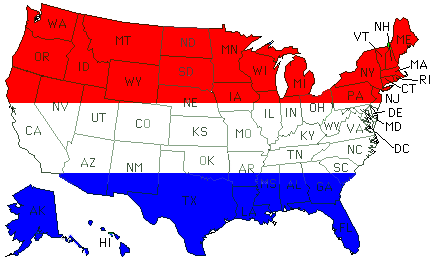 United States image and imagemap are copyright 1995 Juan Cabanela and used by permission.
Colors do not designate any political subdivisions.
Links from the imagemap are repeated below
Here's my TripAdvisor travel map
Here are some of the vacations and other trips I have taken.
| | | |
| --- | --- | --- |
| When | Where | What |
| July 1995 | Hawaii | Spent some time in Oahu (Honolulu) and the Big Island (Hilo). Saw most of the sites on Oahu; saw the volcano on the Big Island as well as a lot of the town of Hilo. (Pre-digital pictures, but I'll scan my 35mm photos some day.) |
| March 1996 | St. Louis, Missouri | A business trip, but I had some spare time. I visited downtown St. Louis including the old court house (where the Dred Scott decision was rendered) and the Arch. |
| June 1996 | Georgia, Alabama, Florida | Flew to Atlanta (Stone Mountain), then went to a friend's wedding in Birmingham. Drove to Mobile, Pensacola, and Tallahassee. Then, drove to Macon and back to Atlanta. |
| June 2000 | | Mainly a business trip (with UNT) but had some time to visit some sites; also visited friends Geoffrey and Beryl in Gillingham, Kent. |
| June 2000 | | Flew into Salt Lake City, then drove through Idaho to West Yellowstone. Visited Yellowstone National Park and Grand Tetons; also went rafting in Montana. |
| July 2000 | | Went to youngest brother's wedding in Kansas, then drove to Omaha, Nebraska (great zoo!), and visited some friends in Des Moines Iowa. |
| March 2001 | | Took a day trip into Oklahoma to see Turner Falls and the Oklahoma National Memorial. |
| June 2001 | | Flew into Hartford, CT, visited Mystic, CT; Providence, RI; Plymouth, Mass. and Newport, RI. Flew back from Providence. |
| July-August 2001 | | Flew into Seattle, WA; took a cruise to Alaska out of Vancouver, B.C.; back through Washington visited Mt. St. Helens; drove to northern Oregon visited falls along the Columbia River; flew back from Portland, OR. |
| September 2001 | | My second time to Florida, this was a quick long-weekend trip to Clearwater and Orlando. |
| December 2001 | | An after-Christmas trip to visit some friends in Eureka. |
| March 2002 | | An invitation to speak at the North Carolina DRA Users' Group brought me to the Tar Heel state. |
| May 2002 | | Used Las Vegas as a base to visit the Hoover Dam and the Grand Canyon. |
| June 2002 | | A long-awaited trip to San Diego to see the zoo, wild animal park and Sea World. |
| August 2002 | | Returned to Oklahoma to see a friend perform |
| November 2002 | | After-Thanksgiving visit to Enchanted Rock and Fredericksburg on my way back from Austin |
| December 2002 | | Another long-awaited trip to the frozen tundra of Lambeau Field. Also visited the National Railroad Museum and the Green Bay Zoo. |
| February 2003 | | I had a Southwest Airlines Rapid Rewards ticket I had to use before it expired, so I took a quick two-day trip to the Land of Enchantment. |
| March 2003 | | Spring break trip to Corpus Christi and San Marcos |
| June 2003 | | I flew in to Baltimore, Maryland and traveled through Delaware, New Jersey, Pennsylvania, West Virginia, Virginia and Washington, D.C. |
| December 2003 | | A weekend trip to Hot Springs, Arkansas |
| August 2004 | | A few days in Myrtle Beach |
| September 2004 | | A trip to Kentucky and Indiana |
| November 2004 | | Bald Eagles nest on a lake northwest of Austin |
| November 2004 | | A business trip, but of course I visited a few places |
| January 2005 | | Another business trip, but of course .... |
| Jan/Feb 2005 | | A trip back to San Diego for whale watching |
| March 2005 | | Church group went to the Arboretum |
| July 2005 | | Mt. Rushmore area; Theodore Roosevelt National Park; and Bismarck area |
| August 2005 | | Thanks to Southwest Airlines' Rapid Rewards, I flew to Cleveland, Ohio. I visited Cedar Point Amusement Park, South Bass Island, Pro Football Hall of Fame and other places. |
| March 2006 | | My second trip to the Islands. This time went to Maui, the Big Island, and Oaho. |
| June 2006 | | I went for the SBC, but toured a little too. |
| January 2007 | | A conference, but a little sightseeing too. |
| June 2007 | | I went for a conference, but saw a few sights too. |
| January 2008 | Philadelphia | For a conference, but I always try to see some sights. |
| April 2008 | | Clarion, Punxsutawney, and Pittsburgh |
| May 2008 | | Key West, Dry Tortugas |
States Visited
| | | |
| --- | --- | --- |
| State | When | What I Visited |
| Alabama | June 1996 | Birmingham, Mobile |
| Alaska | Summer 2001 | Cruise the Inside Passage: Juneau, Skagway, Glacier Bay, Ketchikan |
| Arizona | May 2002 | Grand Canyon |
| Arkansas | December 2003 | Hot Springs |
| California | June 2002; Jan/Feb 2005 | San Diego: zoo, Wild Animal Park, Sea World; La Jolla; Del Mar; Whale Watching; Cabrillo National Monument |
| Colorado | Several times; June 2007 | Purgatory, Breckenridge, Colorado Springs |
| Connecticut | June 2001 | Mystic Seaport and Aquarium |
| Delaware | June 2003 | Wilmington (Brandywine Zoo) |
| District of Columbia | June 2003; November 2004 | National Mall, National Zoo |
| Florida | June 1996; Sept 2001; May 2008 | Pensacola Naval Base, Tallahassee; Clearwater, Orlando; Key West, Dry Tortugas |
| Georgia | June 1996 | Atlanta, Stone Mountain, Macon |
| Hawaii | July 1995, March 2006 | Honolulu, Hilo; Maui, Hilo, Honolulu |
| Idaho | June 2000 | St. Anthony, Mesa Falls, Idaho Falls |
| Illinois | December 2001 | Chicago (Sears Tower) and Eureka |
| Indiana | September 2004 | Indianapolis: Speedway, Canal Walk, and Zoo |
| Iowa | July 2000 | Des Moines (Clive) |
| Kansas | July 2000 | Abilene, Hutchinson |
| Kentucky | September 2004 | Mammoth Cave, SBTS, and Louisville Zoo |
| Louisiana | Several times | Baton Rouge, Shreveport |
| Maine | June 1977 | Two lighthouse beach |
| Maryland | June 2003 | Baltimore Harbor (National Aquarium & Fort McHenry) & Antietam |
| Massachusetts | December 1981; June 2001; January 2005 | Boston (Harvard); Plymouth (historic sites and whale watching); Boston (Freedom Trail) |
| Michigan | November 1996 | Flew into Detroit for friends wedding in Farmington Hills |
| Minnesota | November 1997 | Minneapolis, Rochester, North Mankato |
| Mississippi | December 1985 | Jackson |
| Missouri | Several times | St. Louis, Kansas City |
| Montana | June 2000 | West Yellowstone, rafting in Big Sky |
| Nebraska | July 2000 | Omaha Zoo |
| Nevada | May 2002 | Las Vegas; Hoover Dam |
| New Hampshire | June 1977 | Visited northern New Hampshire on the way to Maine |
| New Jersey | June 2003 | Six Flags Wild Safari & Great Adventure |
| New Mexico | February 2003 | Santa Fe; Albuquerque: Sandia Peak, Zoo, Aquarium |
| New York | 1976-77 | Fort Ticonderoga, etc. |
| North Carolina | March 2002; June 2006 | Raleigh, Wake Forest, Burlington, Elon; Greensboro, NC Zoo, NC Aviation Museum |
| North Dakota | July 2005 | Theodore Roosevelt National Park; Bismarck |
| Ohio | August 2005 | Sandusky; South Bass Island; Canon; Akron; Cleveland |
| Oklahoma | March 2001 | Turner Falls, Oklahoma City National Memorial |
| Oregon | Summer 2001 | Portland, Multnomah Falls |
| Pennsylvania | June 2003; January 2008; April 2008 | Philadelphia (Independence Mall); Gettysburg; Clarion; Punxsutawney; Pittsburgh |
| Rhode Island | June 2001 | Providence (Baptist history sites and Zoo) and Newport (Baptist history sites and Cliff Walk) |
| South Carolina | August 2004 | Myrtle Beach |
| South Dakota | July 2005 | Mt. Rushmore; Crazy Horse Memorial; Deadwood |
| Tennessee | Several times | Nashville |
| Texas | Live there | Fort Worth, San Antonio, Houston, Galveston, Corpus Christi, etc. |
| Utah | June 2000 | Salt Lake City, Great Salt Lake |
| Vermont | Lived there Summer 1976 - Summer 1977 | Bridport, Middlebury, Burlington, etc. |
| Virginia | June 2003 | Arlington National Cemetery; Pentagon |
| Washington | Summer 2001; January 2007 | Seattle, Mount St. Helens |
| West Virginia | June 2003 | Shepherdstown |
| Wisconsin | December 2002 | Green Bay: Lambeau Field, National Railroad Museum, Zoo |
| Wyoming | June 2000 | Yellowstone National Park, Grand Tetons, Jackson |